PLACENTOPHAGY
~ The ingestion of ones placenta after childbirth, either in raw or encapsulated form. ~
Consuming our placenta has not been a common practice in our society in the past, however, it is quickly becoming more commonplace as women learn about and experience the benefits that this unique, life giving organ has to offer. Some women consume their placenta by cooking it in a stew or stir fry, or by blending it raw into a smoothie. For those who feel queasy at this thought, encapsulation is the perfect option.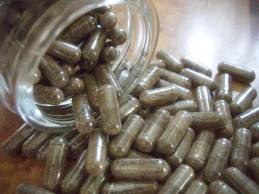 Placenta encapsulation is the method of preserving and preparing the placenta for consumption. The placenta is preserved through dehydration, then ground to a powder and put into capsules for easy and convenient use by the mother.
Hormones play a major role in a woman's post-natal well-being. During pregnancy a woman's hormones change dramatically, some nearly tripling their normal levels by the end of the third trimester. At approximately days 4-5 postpartum, these levels suddenly drop back down to their pre-pregnancy norms. This sudden drop in hormones is one of the leading factors in why so many mothers experience the "baby blues". Encapsulating and consuming your placenta over time can assist with these changes, making the postpartum experience much more manageable and enjoyable.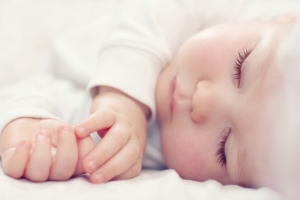 The placenta is rich in iron, protein and numerous vitamins, minerals and hormones.
What are the Benefits of Placentophagy?
Increased energy levels
Re-balancing of hormones
Replenishes depleted iron levels
Reduces post-natal bleeding (lochia)
Assists with involution of the uterus
Enhances healing
Increases milk production
Rich nutritional source
Lower rates of 'baby blues'
Reduced risk of postpartum depression
Faster recovery
Decreased anemia
Decreased fatigue
An increased sense of well-being
A more enjoyable post-natal experience
What is in the Placenta and How Does it Benefit Me?
Prolactin: promotes lactation
Oxytocin: for pain relief and bonding of mother and infant
Cortisone: combats stress and unlocks energy stores
Interferon: stimulates the immune system to protect against infections
Prostaglandins: anti-inflammatory
Hemoglobin: replenishes iron deficiency and anemia
Gammaglobulin: immune booster that helps protect against infections
Thyroid stimulating hormone: boosts energy and aids in recovery from stressful events
Gonadotrophin: the precursor to estrogen, progesterone and testosterone
Urokinase inhibiting factor and factor XIII: stops bleeding and enhances wound healing
Human Placental Lactogen (HPL): stimulates mammary gland function and milk production
Placental Opioid–Enhancing Factor (POEF): stimulates the production of your body's natural opioids, including endorphins, reduces pain, increases well-being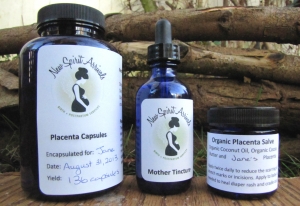 Rylie shows a deep passion and knowledge for the amazing possibilities offered by our placentas. She helped ensure I was fully informed and offered many choices for consuming my placenta after birth. This is my second birth consuming placenta capsules. I feel the capsules help balance my body for a quick and peaceful recovery. I have had a great post-natal experience, feeling full of contentment and happiness—energetic enough to play with my toddler while learning to care for my newborn!

Melissa S.
Methods of Encapsulation:
RAW
TCM
COMBINATION
Placenta Steamed?
No
Yes
Yes
Capsule Yield
Most
Least
Moderate
Dehydration Temperature
160°F for 2 hours*
115°F for 16-22 hours
140°F for 2 hours
125°F for 10-12 hours
160°F for 2 hours
115°F for 16-20 hours
Time to Dehydrate
18-24 hours
12-14 hours
18-22 hours
Other Considerations

Retains the highest concentration of hormones, vitamins and minerals.

Best done within the first 48 hours postpartum.

Steaming with ginger and myrrh infuses warmth and creates a milder capsule.
Perfect combination to infuse some warmth without losing a lot of nutrients.
*Dehydration at 160°F for 2 hours is to meet Food Safety Standards. If you prefer your placenta only be dehydrated at 115°F please let me know.
Capsule Options:
All capsules are high quality, pharmaceutical-grade, size 0 or 00. No added charge for flavoured capsules.
Vegi-Capsules
100% plant-derived, vegan
Preservative + gluten-free
Non-GMO
Kosher + Halal Certified
Flavoured Capsules
Pharmaceutical-grade gelatin
100% BSE-free
Kosher + Halal Certified
Smells delicious + tastes great
Other Placenta Products + Services:
Artistic Placenta Prints are a beautiful way to capture and preserve the uniqueness that is your placenta. Your beautiful placenta is printed in two ways; first using your own blood as the medium and then with high quality food colour gels. Blood prints create a true depiction of the uniqueness that is your placenta and the artistic colour prints are a fun, creative rendition of this same beauty. When you choose to have your placenta printed, you will receive at least one Blood Print and one Artistic Colour Print.
Please notify me if you have any allergies to food dyes.
Price: $20. Available with Encapsulation or Raw Prep Service. See package pricing below.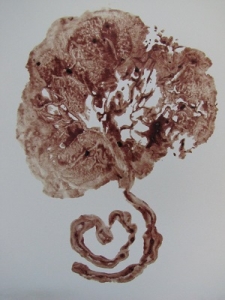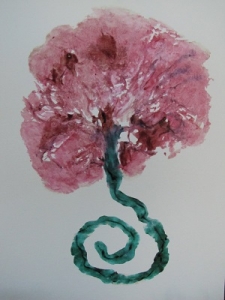 A Mother Tincture is made by steeping a piece of placenta in a high grade alcohol for six weeks. After six weeks, it becomes a potent remedy that will last indefinitely if stored properly; in a cool dark place. Once your capsules are gone you can continue to benefit from your placenta during times of stress, trauma or transition by taking just a few drops of the Mother Tincture. Many women have benefited from it years later when experiencing symptoms of menopause. It will also help to relieve any symptoms of menstruation after childbirth. Many clients have even found it beneficial for baby during stressful times or while teething.
Mother Tinctures are always gluten free!
Price: $40 for two 2oz. bottles with droppers. Available with Encapsulation or Raw Prep Service. See package pricing below.
My husband and I had to move a few months after our son was born and I found the whole experience very stressful. My Tincture was especially helpful during that time and I have continued to use it a few times a week when feeling tired, overwhelmed or under a lot of stress. I find it easy to use and because it comes in two bottles I'm able to keep one at home and the other one in my purse for when I'm out and about. I highly recommend adding this on to any encapsulation service because it's easy to use and will be of benefit for years to come.

Melina G.
This lovely handmade salve smells absolutely divine and is customizable with your choice of herbs. Your placenta is a rich source of nutrients, making it a powerhouse of healing and restoration for your body and skin. The essential amino acids, protein and stem cells work well with the Organic Coconut Oil, Organic Cocoa Butter and herbs to provide you with a super healing salve that can help with variety ailments including the following:
Reduce the scarring of stretch marks and cesarean incisions
Speed the healing of any perineal lacerations
Heal cracked or sore nipples
Use on baby to heal diaper rash, cradle cap or eczema
Reduce inflammation from eczema, psoriasis and dermatitis
Choose to have any or all of the following herbs added to your salve at no extra charge:
Calendula ~ Stimulates regeneration of the skin, helps to prevents scarring, is an anti-inflammatory and inhibits the growth of some bacteria.
Plantain ~ This herb has been used for centuries to reduce inflammation and promote quick healing.
Comfrey ~ Nicknamed "knit bone" for its ability to heal and prevent scarring, Comfrey is excellent for treating dry skin and healing wounds.
Lavender ~ Promotes restfulness, is antibacterial, anti-fungal, an antioxidant and is excellent for healing rashes and reducing scarring.
Witch Hazel ~ An ancient herb used for hemorrhoid relief and treatment. Also known for its anti-inflammatory and astringent properties.
Price: $40 for a 4oz. / 112g jar. Only available with Encapsulation. See package pricing below.
Drinking a placenta smoothie shortly after giving birth will supply the essential vitamins, minerals and hormones needed to start healing and to feel great. It provides a nice energy boost and is a great way to start benefiting from your placenta while you wait for your capsules to be ready. The placenta is rich in stem cells and growth factors which together quickly heal damaged tissues and organs. The smoothie tastes just like a regular, placenta-free smoothie and can be customized according to your needs. I bring everything to you, make a fresh smoothie on the spot and take the mess with me when I leave so you don't have to think about a thing.
Benefits of Consuming Raw Placenta:
Reduces blood loss, helps stop postpartum haemorrhaging and trigger the body to heal internal wounds
Provide a rich source of nutrients; vitamins, minerals and hormones to begin the healing process
Helps the mother feel more energetic, stronger and more emotionally balanced
Can help milk to come in faster and more smoothly
Recipe:
2 cups Organic Frozen Strawberries or Blueberries
1 Organic Banana
1 piece of Placenta
1 cup of Water
Please email any special requests or notify me of any allergies.
Price: $25. Available with Encapsulation or Raw Prep Service.
Raw Prep Service is for those who want to utilize their placenta over the next few months by adding it to soups, stir-fry's or other meals or to make smoothies at home. You can choose to have your whole placenta prepped in this way or half of your placenta with encapsulation. I'll take care of the pickup and delivery and will return your placenta frozen in bite sized chucks for easy use later.
Price: $125 for Raw Prep of the whole placenta. Includes Pickup and Delivery.
Or: $25 for Raw Prep of half the placenta with Encapsulation Service.
I'm really enjoying having my placenta smoothies every morning. To be honest, I was nervous about the taste but actually it's not even noticeable! Shortly after drinking the one you made me after I gave birth, my mood and energy levels were much higher and I started feeling more positive overall. I noticed my bleeding settled down quite quickly and my milk even came in one day earlier than it did with my first son! Thank you for everything Rylie!

Nicole M.
Pricing:

Encapsulation Service $200
RAW, TCM or COMBINATION.
Complimentary umbilical cord keepsake included.
Pick up + Delivery $50
Encapsulation for twins +$50
Mother Tincture $40
Organic Placenta Salve $40
Artistic Prints $20
Fresh Smoothie $25
Whole Placenta Raw Prep $125
(includes pick up + delivery)
Half Placenta Raw Prep $25 (with Encapsulation)

Packages:

Mother Tincture + Prints $50
Organic Salve + Prints $50
Tincture + Organic Salve + Prints $80