New Spirit Massage + Bodywork

is a sister company to New Spirit Arrivals. I've been offering holistic massage and healing services for several years and work from a beautiful studio that is conveniently located within the historic Duncan Building on the edge of Gastown, in Vancouver. I invite you to step into this sweet little oasis and forget the outside world while you have an experience like none other. With the ambiance of a spa and the touch of knowledgeable hands you'll receive both a relaxing and therapeutic treatment.
Prenatal Massage:
Prenatal Massage:

Current Promotion!

A woman's body goes through several unique changes throughout pregnancy. Massage can help support these changes, improve lymphatic and blood circulation and increase flexibility and range of motion. Relaxation massage has also been proven to reduce stress hormones and anxiety which means improved over-all health and well-being for both mom and baby. Prenatal massage combines Relaxation and Deep Tissue techniques, Myofascial Release Work, and Lymphatic Drainage to help decrease swelling of the legs and ankles.

60/90 minutes for $80/120
Postnatal Massage:
Aimed to reduce the discomforts of an achy and tired postpartum body. Whether your baby is born vaginally or via cesarean your body will go through various changes during the postpartum period. Support these changes with the help of a relaxing and therapeutic massage designed to assist your body in it's natural recovery from pregnancy and childbirth. This treatment can also provide relief for achy shoulders for any breastfeeding mom and is designed to treatment women between 1 – 6 weeks postpartum. Baby is welcome to join you and can cuddle up with you while you receive your massage.
60/90 minutes for $80/120
Massage for Both Men + Women:
Relaxation Massage:
Renew your spirit with a soothing and stress-relieving massage that eases your mind and leaves you feeling like time has slowed down. A softer touch, beautiful music and tender aromas will stimulate your senses, allowing you to escape into a deeper state of relaxation. This massage includes elements of Swedish Massage, Joint Release and Reflexology.
60/90 minutes for $60/90
Realignment Deep Tissue Massage:
Relax your body with a varied pressure treatment that combines relaxation and deep tissue techniques and is designed to balance the body, reduce pain and increase range of motion. This massage focuses on realigning the shoulders and hips which are often tilted forward or back causing painful tension throughout the spine, neck, arms and legs. Other bodywork elements include Joint Release, Deep Flow and Yoga inspired stretches.
60/90 minutes for $70/100
DEEP, Deep Tissue Massage:
Release your mind with an overall deep treatment for those who truly love deep pressure that leaves you feeling one with the table. This slow-moving treatment gets deeper and deeper with each pass and relieves the knottiest of taut muscles and quiets the busiest of minds. This treatment includes elements of Deep Tissue Massage, Shiatsu and Joint Release.
60/90 minutes for $80/120
Acupressure Facial Treatment:
This slow moving and deeply relaxing facial treatment stimulates the meridian points of the face, helping improve energetic flow. Other benefits include tightening of the facial muscles and smoothing of the skin. Longer treatments, 20 to 30 minutes, include some focus on the neck and shoulders and more work on the scalp. Medium to deep pressure is applied to meridian points while the practitioner mediates to aid in energetic release, leaving you refreshed and renewed.
10/20/30 minutes for $15/25/53 or Add-on to any treatment for half the price!
Reflexology:
This treatment begins with a detoxifying Epsom salt foot bath complete with your choice of aromatherapy oils to soften the feet. The practitioner then works to stimulate the reflex points of the feet, working one foot at a one from the tips of your toes to the sole of your foot easing tension throughout the entire body. Each reflex point corresponds to a certain organ, gland or structure in the body. This work shifts the body towards a state of equilibrium, restoring the body to homeostasis, which is the body's ability to physiologically regulate its inner environment.
45/60/75 minutes for $50/65/80 or Add-on to any treatment for half the price!
Hot Stone Massage:
Warm oils are applied to the body to lubricate heated basalt stones as they move over the body fading away deep rooted muscular tension and calming the nervous system. Turning onto the back, stones are then placed on the table to gently recline upon as the front of the body is worked, enveloping the client in a blissfully toasty oasis of serene rest. Cool marble stones may also be used in turn with hot stones to increase circulation and release chronic pain.
60/90/120 minutes for $90/$140/$190
Birthday Special:
Receive two hours of de-stressing and pampering for the face, hands, and feet. An Epsom salt and aromatherapy foot bath prepares the feet for 45 minutes of reflexology with warm sandalwood and vanilla aromatherapy oils blended in cocoa and shea butter. Following that, the hands receive 30 minutes of reflexology, rejuvenating them and releasing all the aches. We finish with the face, scalp, neck and shoulder massage to complete the treatment, dissolving stress and discomfort, sending the client off feeling revitalized and raring to sing, "Happy Birthday to Me."
120 minutes for $150
Found within the Historic Duncan Building at:
Suite #214 – 119 West Pender St.
Vancouver, BC
V6B 1S5, Canada
Book your appointment today!
Phone: 604.785.6669
Email: Rylie@newspiritmassage.ca
Hours of operation

Directions & Parking
Monday – Friday 10am – 7pm
Saturday 11am – 6pm
Available by appointment only.
Easily accessible by transit; along several bus routes and one block from Stadium/Chinatown Skytrain Station
Parking is available on Beatty St, West Pender St, Abbott St, or Cambie St. There is also several parking garages in the area; one on the corner of Beatty St. and West Pender St., and a few off of Abbott St.
Cyclists, for your security, please feel free to bring your bike into the suite.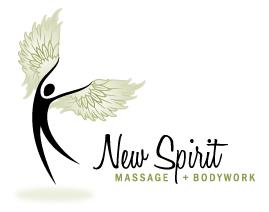 Relax your body.
Release your mind.
Renew your spirit.